Our Mission
Responsible Electronic Recycling, a woman-owned and certified veteran-owned business, has a mission to reduce the problem of electronic waste in our environment. Our talented team recycles or refurbishes electronics in accordance with today's strict environmental, ethical, labor safety, and data sanitation standards.
Since 2015, RER has kept hundreds of thousands of pounds of electronics out of landfills.
RER was a 2018 Angel Grant recipient from the Harper College Educational Foundation earning an award of $6000.
With the help of high school employees from the Glenbrook Illinois school district, RER built a computer lab for data sanitation and computer testing. It can service 70 computers simultaneously.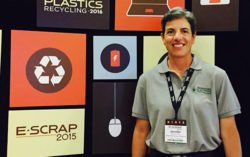 Jennifer Leone
Founder & Owner
Transitioning from her hobby of electronic recycling to a full-time career, Jennifer founded Responsible Electronic Recycling in 2015. Her certified veteran and LGBT-owned business strives to reduce electronic waste and refurbish electronics. Serving locally and nationally, we can provide efficient and secure service to move your IT assets and access options for return on investment/value recovery.
A former teacher with a Masters in Educational Technology, Jennifer is driven to educate others about the growing problem of e-waste.
Jennifer is a veteran of the U.S. Navy. She served 21 years as a Construction Mechanic and a member of the Seabees, the Navy's construction force. She retired in 2005 as a Master Chief Petty Officer. Proud to be a veteran and LGBT certified business, Jennifer aspires to put her expertise to good use.
Our Partnerships
Responsible Electronic Recycling is a member of the Illinois Recycling Association, the only collective voice on critical waste management issues facing this state. The association's mission is to encourage the responsible use of resources by promoting waste reduction, reuse, and recycling.
Responsible Electronic Recycling is proudly certified with the National Veteran Owned Business Association (NaVOBA), which create opportunities for America's Veteran's and Service-Disabled Veteran's Business Enterprises (VBEs/SDVBEs) through certification, advocacy, outreach, recognition and education, and the National LGBT Chamber of Commerce (NGLCC), dedicated to expanding economic opportunities and advancements for LGBT people.
RER adheres to the industry leading R2v3 Standard by partnering with a R2v3 certified partner, Genesis Electronics Recycling, to ensure all electronic waste is recycled or refurbished in the safest and most compliant manner possible.